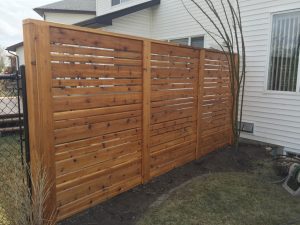 Arbors, pergolas and privacy screens are becoming more and more popular in our landscaping projects.   The look of natural wood is hard to beat and it helps soften the look of your landscaping.  An arbor, pergola or privacy screen can be a beautiful addition to any landscape.
Privacy Screens
are very common, especially screens with horizontal wood slats. Privacy screens help provide a gentle semi transparent divider between you and your neighbours property.  Privacy screens can also be used in front yards and around hot tub and lounging areas.  We often install privacy screens on decks to help give privacy from neighbouring decks.  The most common material used to build a privacy screen is cedar but you can also used pressure treated wood or meranti hardwood. Adding and attractive stain to your wood privacy screen is key to bringing out the attractive wood highlights.  Chinook Landscaping and Design can build your privacy screen any height or length you choose and we would be happy to discuss all the possibilities with you.
Pergolas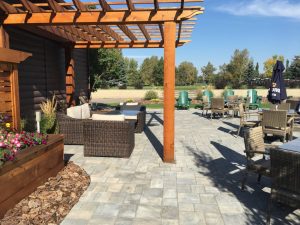 Pergolas are larger wood structures that are usually found in back yards, over top of patios, hot tubs or sitting areas.  They are used to provide shade for full sun areas but are also used as features.  Pergolas can be installed with our without plexiglass covers.  Most of the pergolas we install do not have covers but instead maintain an open top to allow direct sunlight through the wood beams.  Pergolas can be built in any configuration you choose.  From simple straight beam styles to more ornate decorative styles.  Placement of your pergola is important both for practically and looks and sizing is important too. A pergola can create a warmer intimate setting in what would otherwise be an colder open area.  Pergolas are especially useful when installed on large concrete or paving stone patios as they can help soften the hard look of the stone.  The most common material we use for pergolas is cedar but you can also choose from pressure treated wood or meranti.  Beautify the look of your landscaping by Incorporating a pergola into your landscape design
Arbors.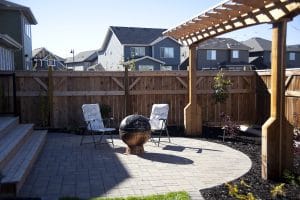 Wood Arbors are a simple and inexpensive way to incorporate an attractive
wood feature into your landscape.  Arbors are often used at entrances to front or
back yards, as features by patios, in gardens or close to water features.  Arbors
can be used almost anywhere you want the warmth of wood to soften your landscape. Arbors are also a great practical choice when you need to run drainage downspouts over top of your walkways.  We have built many arbors that hide the downspout on the top of the arbor while allowing the water from your eavestrough to flow overland away from walkways and patios.  Most arbors
are built with cedar, meranti or pressure treated wood.  We can build you an arbor in a simple or ornate fashion to complement your front or back yard landscaping.
Interested in this service?  For more information contact us at estimates