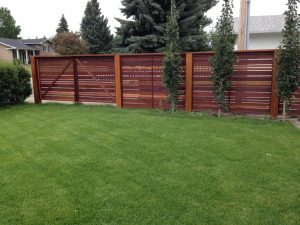 Chinook landscaping Calgary provides sod installation in Calgary. We do everything from grading and leveling your property to spreading loam and installing beautiful Kentucky bluegrass sod. A mix of kentucky bluegrass and creeping red fescue, our sod has a rich dark blue-green color. Our golf course quality turf is the finest available. Not all sod is the same, and many are thinly cut and dry out easily when the grass is trying to get established. Before we install your turf we pressure roll your property to ensure the ground is level and to create a good base for the sod to get established. After we install your new turf we pressure roll the sod again to give you a perfectly level lawn.
SOD QUALITY VARIES IN CALGARY
There are many sod companies in Calgary, and not all of them deliver the same grass. If you look at the root ball of some sod it will be very thin, that is because some turf farms choose to cut as little of the soil with the grass as possible. This saves them having to add more soil to their fields but it greatly reduces the quality of the sod you get. A thin root ball means the rolls of grass will dry out very quickly and it also contains fewer nutrients than a thick root ball. This means your sod will get a rough start, possibly dying out from drought or dying out from lack of nutrients. At Chinook Landscaping we guarantee our turf to be golf course quality and to have the thickest root ball available. This assures our customers that their sod will have a healthy start which will result in the finest lawns possible.
SOIL/LOAM INSTALLATION
The value of proper site preparation and soil improvement, before any planting takes place, is that it will be easier for the grassroots to penetrate deeply and evenly. Deep roots will make the lawn more drought resistant, more efficient water and nutrient user, and denser as new grass plant shoots emerge. A dense lawn crowds out weeds and better resists insects and disease. A good lawn requires a good soil base to grow properly. It is very important to give your new sod a good start by laying a base of screened loam first. We grade and pressures roll the loam to create a smooth base for your new lawn. Before adding the loam we ensure that the sub base is free of large rocks and other material that may impede the sods ability to grow properly
MOST INSTALLATION COMPLETED IN ONE DAY
After you have approved our free estimate we can get started on your new lawn right away. We work quickly and efficiently without unnecessary delays. All loam grading and leveling, as well as sod laying, can be done properly and professionally in a short time. Most of our sod installations are completed in one day which means you and your family can enjoy your new lawn sooner.
WASHED ROCK/FABRIC INSTALLATION
Chinook Landscaping can install fabric and washed rock along the side of your property where the light is not sufficient for grass to grow properly. We can also install more decorative stone like rundle rock, tan rock, montana rainbow rock and many more.  We'll recommend options for these areas and help you decide on a good choice. Installing a good professional grade weed barrier or landscaping fabric is very important. Weeds can grow quickly through rock, without the weed barrier you will have a mess of weeds in no time.
THE BEST TIME TO INSTALL YOUR NEW LAWN
Spring, early summer or fall is the best time to lay your new lawn in Calgary. Grass likes cooler temperatures when it is trying to get established so conditions at the beginning and of summer are perfect for sod to get started. We install our sod all season long and we guarantee the turf and the installation so regardless of when we install you don't have to worry about it.
NO DEPOSITS
That's right, we don't take a deposit for your sod installation or any landscaping project. We want to make sure you are happy with your landscaping before you pay us. We only accept payment once you are pleased with the outcome of your new sod, and we have completed the job to your satisfaction.
Check out the Calgary sod blog for more information on growing sod in Calgary