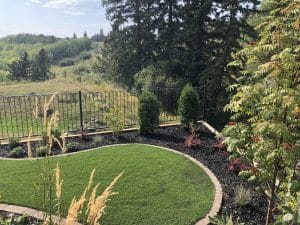 If you have lived in Calgary for a while you already know that our winters can be very unpredictable. The cold weather can hit very quickly and a warm Chinook can come and go just as quickly. These extreme weather conditions make it very difficult for shrubs and trees to survive the winter. Calgary can experience temperature extremes from -40 Celsius to + 15 Celsius within a 24 hour period. It is this constant freezing and thawing that make for a tough winter for your plantings. An ideal winter for wintering trees and shrubs would be a blanket of heavy snow early in the season to protect the shrub and tree roots. This rarely happens early enough though and instead, we often see very cold temperature when the ground is still bare. Here are a few important steps to help your trees and shrubs get through winter.
Water your shrubs heavily in fall
IT is very important to water your shrubs heavily in fall. Even though the temperatures are cooler in the fall months, your trees and shrubs are still using water. They also need to store the water for use in spring. So water very heavily in fall and just before the first hard frost.
Apply heavy mulch around tree and shrub base
In order to protect the roots of your trees and shrubs, it is always a good idea to place some mulch around the tree and shrub base. You can use cedar mulch, black mulch or any of the wood-based mulches on the market. You can also use fallen leaves if the area is protected from the wind. This mulch layer will protect the roots of your plantings and greatly increase their chance of survival.
Wrap Junipers and Cedars in burlap
Upright junipers and cedars are often more susceptible to harsh winter winds in Calgary. It is therefore very helpful if you wrap the upright shrubs in burlap to help protect them. You can also use a more modern cover like Agfabric.
Agfabric is an advanced shrub blanket that will help reduce the chances of winter kill. See this link for more Agfabric
Pile up the snow on your shrubs
We often get asked if putting shoveled snow on your shrubs is harmful. Shoveled snow can contain salt from you and your neighbors salting your driveways and walkways but the snow itself is very beneficial for wintering trees and shrubs.
Overall, the benefits of the thick snow layer outweigh the drawbacks of salt in the snow. So, we recommend piling as much snow as you can over your shrubs as well as around the bases of all of your trees. Follow these steps for wintering your trees and shrubs and you should see greater survival rates with little to no winter kill.
Call us at 403-452-8552 for your free estimate!
For more landscaping in Calgary you can check out our landscaping information website:
Landscaping Calgary or landscaping Calgary guide