Fire pit design ideas
Outdoor spaces can be complemented by a number of structures but there are few that can beat the exciting warmth fire pit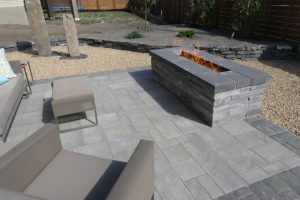 bring regardless of the season. Fire pit has the knack for enflaming emphatic conversations among your family members and guests as they unwind and catch up. It can spark that cozy feeling, right at your backyard, keeping your compadres warm long after the sunset.
However, it's always a hassle figuring out where to start. Many end up scratching their heads trying to decide where to place it in their outdoor spaces, whether to burrow it in the yard or raise it on the patio, if they can get them from stores or just DIY it among other considerations. You might also opt to consult a contractor to guide you on how best you can blend your style with the native setting of Calgary.
But moving forward, we will look at some of the fire pit design ideas and some recommended tips and tricks when creating a dynamic and mind-boggling fire pit in Calgary.
Fire pit ideas
Outdoor entertaining space starts with your line of thoughts and if you gather the right ideas, you may end up creating the ultimate fire pit in your neighborhood. Here are some of the ideas you might arm yourself with before placing that blueprint on the table to install your fire place.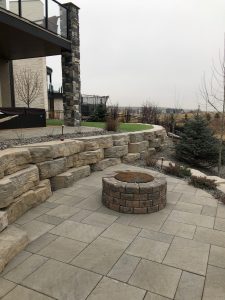 Consider the architecture of your place
It will nudge you into carving the fire pit layout and area that you may be most comfortable with. Also, select fire pit materials that go hand in hand with your surroundings.
Plan your fire pit seating
An attractive and functional seating area is key to your fire pit area. The fire pit should typically be placed  in the centre making the fire pit at the central point of attention while creating a wide border where people can gather around it and still have spaces to place set down plates and drinks. The fire pit patio can be built from paving stones, stamped or exposed aggregate concrete.  For those on a budget you could consider a seating area of decorative rock over landscaping fabric.  Your fire pit patio should match your other patios and walkways 
Contemplate setting up your fire pits on grass instead on patios or verandahs
If you are on a budget you could consider playing your patio on on your lawn.  In this way, you will make use of unexploited covers of grass would be a great spot picnic blankets and outdoor furniture, all gorgeously surrounding the pit.
Consider the option of natural gas in place of wood
This is solely because it's a press away from starting your fire and cleaning is a breeze. Many of our fire pit packages come with a remote control.  However, this smart alternative may deprive you of the nostalgia burning wood brings through crackling sound and that unique smoky air. It's still easy to roast your marshmallows using your natural gas.  Wood burning fire pits are still a great option if you want an authentic fire pit and they are much less costly than natural gas fire pits.
Fire pit designs
There are great fire pit designs out there that can fit your purpose, be it outdoor cooking or just a hangout with family and guest. You can choose them depending on usage, location, shape, style, fuel type, size and building material. Notably, the shape of the round-pit need not be round; you can have one that is triangular, L-shaped, square or a completely tailored shape.  Make sure to coordinate the rest of your landscape design to compliment your fire pit
Also, you can have the fire pit permanently or temporary installed and even purchase a portable one that would be easy to move around your yard. For the built-in fire pit, you can decide on building materials like concrete, mortar, bricks and stone.
Some of the designs you can look out for include:
Stacked Stone and brick fire pit
Natural stone fire pit
Portable fire pit
Chiminea fire pit
Outdoor fire place
Don't shy away from getting your own fire pit for that new space or unused space on your backyard. Reach out to your landscaping Calgary specialists Chinook Landscaping and Design.  We can help you decide on the perfect fire pit for your home
Contact us today for your free estimate and landscaping consultation.
Ph: 403-452-8552