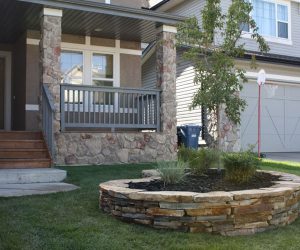 Using natural stone for your pathways, patios, garden bed walls, and ponds can add timeless beauty to your front or back yard. The options for natural stone materials are endless. There are many types of stone too choose from but our most popular in Calgary is rundle rock, a dark grey colored stone from mount rundle in Canmore. Rundle rock comes in brown or grey and a variety of thickness are available depending on your application.
NATURAL STONE FLAGSTONE PATHS AND PATIOS
A beautiful natural stone pathway gives you the look of nature in your own back yard. These natural stone pathways have a different feel and look compared to concrete or even paving stones and look especially good when surrounded by other natural components such as cedar mulch, shrubs, and perennials. Natural stone also looks surprisingly good next to precast products such as paving stones or stack stone. When building natural stone walkways or patios it is imperative that flagstone with a 2″ thickness is used. If you use any stone with less thickness than 2″ you will often get cracking of the flagstone. The thick 2′ flagstone will not crack and it will also be easier to level because of the weight. Chinook landscaping and design inc. only uses 2″ flagstone for all their patio and pathway projects. In between the flagstone we can install 10mm crushed rundle stone, pea gravel, tan rock, or moss.
DRY STACK NATURAL STONE WALLS
Garden perimeters made of natural stone are simply stunning. These garden walls complement your plantings and when built properly they last very decades and beyond. A dry stack garden bed wall is typically made of 1-3″ ledge stone. These thinner wall stones gives you a nice layered look and is best used for walls under 2′. For larger retaining walls we used 3-5″ ledge stone as this heavier stone helps retain the soil better and will not fail under stress. Dry stack means there is no bonding material used between the layers and therefore no artificial cements will be part of your natural landscape. These garden walls look excellent bordering natural stone pathways or precast paving stone paths. A mowing border of paving stones is recommended next to the walls to give you an easy to mow border.
NATURAL STONE FIRE PITS.
Natural stone fire pits can be created using any ledge stone that is available. We build most of our natural stone fire pits out of 1-3″ or 3-5″ rundle rock. These rundle stone fire pits are great for either wood burning or natural gas. If your interested in natural gas we can have our gas fitter run your natural gas lines and install your natural gas burner. Natural stone fire pits like rundle stone look very good with a rundle patio and they look equally good when inset in a paving stone patio.
To view photos of natural stone landscaping visit Our Work
Interested in a free estimate and consultation. Click here : Estimates