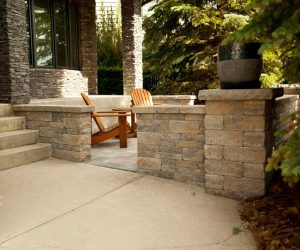 Chinook Landscaping now installs courtyard stone. Creating beautiful stone fences or perimeters around your patio can be done by utilizing a product called Courtyard stone. Courtyard stone provides protection and privacy and adds value and class to any landscape. Commonly used for stone fence along the borders of properties, Courtyard stone can also be used for borders along patios, or walkways. Courtyard stone is available in many different styles and colors, from old world Dublin Wall to Santa Fe. The look of the Dublin wall was designed to mimic the century-old yards walls found in Dublin Ireland. Add a new dimension to your patio terrace or anywhere on your outdoor landscape with Courtyard Stone. Our installation of courtyard stone is fast and efficient without compromising quality.
Outdoor kitchens using courtyard stone
Courtyard stone can be used to help create the perfect outdoor kitchen for your backyard. We can build you stone counter tops, BBQ and grill platforms, and even beautiful stone bench seating to add a cozy modern look to your landscape. Click here to learn more about our outdoor kitchens.
Add value to your landscaping
Courtyard stone is an investment in your property that adds real value to your home. Installing courtyard stone gives your landscaping a beautiful classic look that sets you apart from your neighbors. There is nothing typical about these beautiful stone accents and you won't have to paint, stain, or maintain the stone at all in the future.
Book your free courtyard stone estimate or any other landscaping project you may have at 403 452-8552
Click here for free estimates