TREE AND SHRUB REMOVAL SERVICES
Chinook Landscaping and Design has expert staff who specialize in tree and shrub planting and removal as well as garden bed design.  Some Landscaping Calgary gardens require removal of all plant species and others may just require some thinning out of plantings that have become overgrown.  Choosing the right trees and shrubs for your landscape is very important.  Trees and shrubs have different light and watering requirements so placing these shrubs in the proper location can mean the difference between your plantings thriving or struggling.  When Planting trees and shrubs it is very important to make sure they are planted in properly prepared soil.  We can give you advice on what trees to use for shade, privacy, fruit, etc.  There are many shrubs that grow very well in Calgary especially when they are planted in the right locations. View our shrubs Calgary guide to view pictures of shrubs that grow well in Calgary.
WE CAN REMOVE LARGE OR SMALL TREES
Our landscape division has many years of experience in all phases of landscaping including small and large tree removal.  We can remove your tree as well as the roots and grind the stump.  Make sure to have your large trees removed by a professional to prevent any damage to your property or surrounding property.  We can also recommend tree pruning strategies so you can keep your tree and regain some of its original shape. Also, it is important to make sure your tree is not on city property and if it is you will need approval from the city to have the tree removed.  City trees are usually planted inside the first eight feet of your property.
TREE AND SHRUB VARIETIES 
We are very familiar with what tree and shrub varieties grow best in Calgary.  As well as planting and removal we will be happy to take the time to come to your residence and discuss great tree and shrub varieties for your property.  Some of the tree options you may be looking are could include shade trees, trees for privacy, Fruit trees or ornamental trees.  You will want to be cautious when planting large trees as they can be a costly investment and if not planted properly you could end up with a damaged or dead tree.  We can also discuss new tree and shrub care with you during your consultation.
GARDEN BED DESIGN
We would be happy to provide you with a professional to scale landscape design for your garden bed design or for the entirety of your landscaping project.  Many of our clients do not require a landscape design for their garden beds but some prefer to have a good visual reference to view all of the proposed plantings for their gardens.   We enjoy visiting clients at their homes and walking their gardens with them.  At that time we can evaluate what shrubs should remain and what shrubs you may want to consider removing.  For planting and removal we are your landscaping Calgary specialist.  Call us today for your free estimate.  403-452-8552.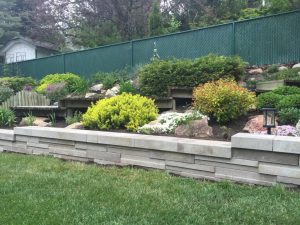 Key Benefits of the Service
Having attractive garden beds is key to a great looking landscape.  It is very important to start with a great plan for your gardens so when the plantings mature they will still look great.
  Enhance your home with a beautiful garden
  Increase curb appeal and property value
 Aesthetic garden beauty that improves with age
  Professional service and the best warranty in the business.
Our landscape division has many years of experience in all phases of landscaping and our customer focused approach makes us the best landscaping company!
We have been designing and building landscapes in Calgary for over ten years. We have extensive experience and above all we are trustworthy.
Chinook Landscaping is dedicated to customer service and treating our customers right. You can count on us to provide you with the best products and the best service!