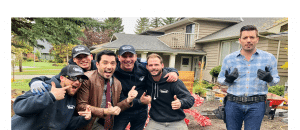 HGTV's hit television renovation show Property Brothers chose Chinook Landscaping and Design over hundreds of landscaping companies in Calgary to design and install a new landscape for an upcoming episode. Working with Jonathon and Drew of the Property Brothers was a lot of fun and a great experience for all our staff.  We can't show you any photos until the show has aired but check out HGTV for news on Calgary episodes coming soon.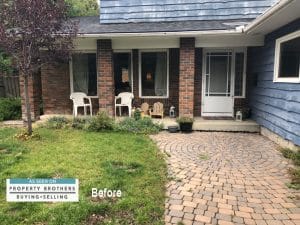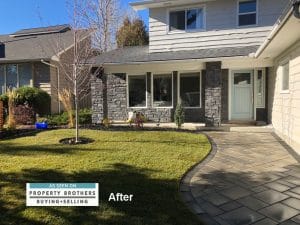 Oakridge Property was the site for the home renovation project
The property is located in the community of Oakridge and the lucky homeowner was thrilled to have Property brothers and Chinook Landscaping completely transform the exterior and interior of her home.  We completely redesigned her front yard.  Oakridge is an older community located in SW Calgary.
Lots of tree and shrub removal to start with
The front yard landscaping was a real mess when we started as it had not been landscaped for many, many years.  We needed to do a lot of tree and shrub removal and garden bed clean up to get things underway.  The haul out for the project was enormous and left as with a clean slate to work with.
Landscaping components we used in this makeover
We installed a new creative curves paving stone walkway utilizing Techo bloc Blu paving stones from Burnco Landscape with matching mowing pavers as borders around the garden beds. A large Autumn Blaze Maple tree was installed in the centre of the yard and we planted numerous shrubs in the garden beds then added a mix of 20mm rundle rock and black mulch. To warm up the landscape we installed a cedar privacy screen at the side of the yard.  The privacy screen also created a subtle divider between the two properties.
Watch for Chinook Landscaping and Property Brothers coming soon!