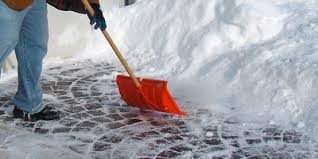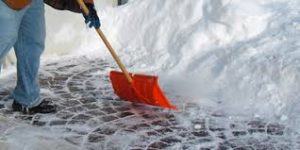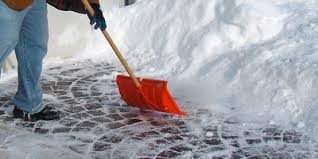 Walkways are a very important component to your overall landscaping. Not only do they welcome visitors to your front door and create curb appeal but they are also of course used to walk on frequently.  There are many common front walkway ideas  to choose from but there are some very important things to consider when planning what type of walkway you are going to install in order to provide a safe and practical walkway for your friends and family.
The safest and least slippery walkways
The safest and least slippery walkways are without question paving stones, broomed concrete and natural stone. The reason these are the safest and least slippery  is because they have no sealant or clear coat applied to them. You can choose to apply a sealer or clear coat to your paving stones but we DO NOT recommend that. Sealant causes the paving stones to become extremely slippery when there is any moisture from rain or snow on them.  Paving stones are poured and formed out of concrete so they are basically raw concrete with colour and texture in them.  Broomed concrete is the standard walkway that you see at the front of most homes and is also used for city sidewalks.  Natural stone is typically not slippery but again, do not apply a sealant or clear coat to the natural stone.  Also, we do not recommend natural stone for a commonly used walkway because of its irregularities that can be challenging when shovelling snow.
Clear coat sealants can cause problems
Clear coat sealants are often used on walkways and patios.  They create a wet look that is visually appealing but can be very slippery to walk on.  You can consider adding a grit of sand or fine gravel to your sealant to reduce slipping issues but this grit can wear off.  As well, the grit can reduce the visual appeal of your concrete or paving stone walkway.  If at all possible we highly recommend going with the natural look.  Avoid sealants and stick to raw concrete or paving stones for high traffic walkways.
Stamped concrete is very slippery
Stamped concrete is very slippery when there is any rain, snow or moisture of any kind on it.  Stamped concrete patios and walkways require a sealant and it is this sealant that creates the slippery surface.  We have seen some landscaping companies install stamped concrete for front walkways. When winter arrives the homeowner is applying salt everyday or putting down mats or warning signs for pedestrians.  DO not make the mistake of installing stamped concrete where the walkway is going to be used often.  If you are planning on installing stamped concrete around your hot tub then please be aware that it will be very slippery when it gets wet.