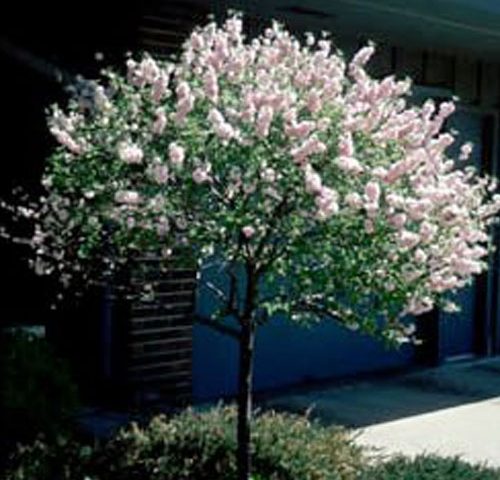 Choosing the best shrubs for landscaping in Calgary is important.  What is a shrub?  Shrubs retain their woody stems throughout the year unlike perennial plants.  Before we talk about the best shrubs for Calgary we should first explain the difference between a shrub and other perennials plantings.  As you probably know, perennial plants die from the soil up so in spring you are left with nothing above the soil but dead plant growth.  Shrubs lose their leaves but their woody stems are still alive in most cases and will grow new leaves in the spring. If you are unsure about whether your shrub stems or stalks are alive try this easy tip.  Simply take your finger nail and gently scratch off a little of the stems bark or outer layer. If you see green under the bark then the stem is alive and you are will see new growth once spring and summer arrive.
There are a number of great shrubs for Calgary and some of these shrubs include shrubs that are native to Alberta and are therefore a great choice.  There are some beautiful shrubs at your local garden centre but Choosing the right shrub  means you need to be cautious and selective in order to choose a shrub that will survive in our climate. Here are some of Chinook landscaping's favourite shrubs.
Cherry bomb barberry are the bomb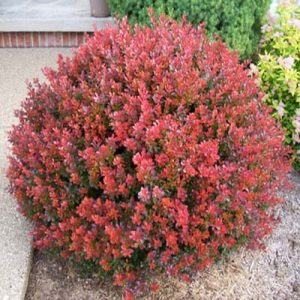 The Cherry bomb barberry shrub is one of the best shrubs for Calgary.  Cherry bomb barberry shrubs are a vibrant, burgundy red shrub that has a distinctive look because they maintain a uniform globe shape.  Cherry bomb barberry have an inviting welcoming colour but they have sharp thorns, hence the name barberry.  We use Barberry in groupings and they seem to look better in groups of three. If you have issues with the neighbours dog leaving deposits on your garden bed then a barberry is a great choice. The thorns will definitely encourage dogs and even rabbits to go elsewhere. Cherry bomb barberry are very hardy and can endure Calgary's harsh freeze and thaw climate.  Other barberry shrubs include Rose glow barberry but they do not retain an attractive globe shape and require more maintenance.
Dwarf Korean Lilac provide perfume for your garden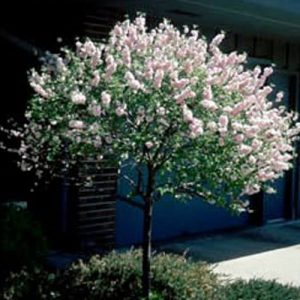 The Dwarf Korean lilac is a fantastic choice for a best shrub in Calgary.  Dwarf Korean Lilacs have a beautiful shape and pink to purple blossoms in spring time.  You can get Dwarf Korean lilacs in shrub form or top grafted form.  The top grafted form is a bold and wonderful way to add an anchor shrub to your landscaping in Calgary. This shrubs is very hardy and does well in full to part sun locations.  Along with the vibrant spring flowers comes a warm and subtle scent that invites guests to your home with a sweet spring perfume.  For the best affect, use a top grafted dwarf Korean lilac in areas where an anchor shrub is needed.  These areas include right beside walkways or in corners of your garden beds. Another popular dwarf lilac is the Miss Kim.  Miss Kims are more erratic in their growing patters and will require constant pruning.
Spirea's are spectacular!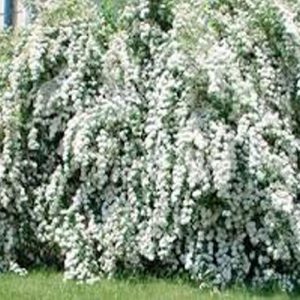 Spirea's are probably one of the most common shrubs you will see in Calgary garden beds.  There are many different varieties of spirea in Calgary.  Some of these include Gold flame, Little princess, Bridlewreath, False spirea and many more.  Spirea are some of the hardiest shrubs you can grow in Calgary.  On our list of best shrubs to grow in Calgary, this is at the top of our list.  Spirea's not only have great spring colour with their lovely blossoms but they also have great foliage colour.  The birchleaf spirea and bridalwreath spirea are two of our most popular shrubs.  Spirea's can endure Calgary's ever changing climate and or somewhat drought tolerant so they can survive when they aren't pampered. Check out our Calgary shrubs page for more great shrubs that will look great in your Calgary garden.  Spirea come in many different sizes including compact and dwarf.  They are an ideal shrub when you want more than just spring blossom colour because of the many varieties that have vibrant bright foliage colour from spring until fall.
Ninebark makes a nice screening shrub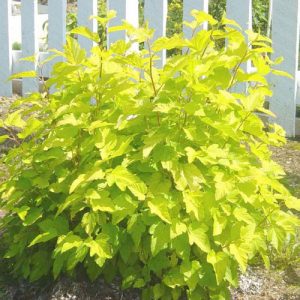 The ninebark shrubs is one of the best shrubs for Calgary if you want a taller anchor shrub or screening around your yard. Ninebark  shrubs are typically a tall growing shrub that can reach heights of 8 feet.  They prune easily in spring and fall so if you want, you can maintain a ninebark shrub at a height of 4-5 feet.  A wonderful shrub that provides colour and texture to your landscape, the Ninebark is extremely hardy and grows very well in Calgary's climate.  Ninebark varieties include Summer wine, Coppertina and Dart's Gold ninebark.  Known for its
sharp multi pointed, tree like leaves ninebark are the perfect shrub to fill in those larger empty spaces around your garden beds.  It is important to plan for mature growth when choosing where to plant your Ninebark.  Do not overcrowd them by planting them too close to trees or other plantings.   Once established ninebark will not require a lot of watering so they can be a good choice for xeriscaping your yard in Calgary  Ninebark shrubs come with an added bonus of spring blossoms.  You will not see blossoms or flowers on all Ninebarks however.
Curious about best planting habits for trees and shrubs?  Check out our planting trees and shrubs page