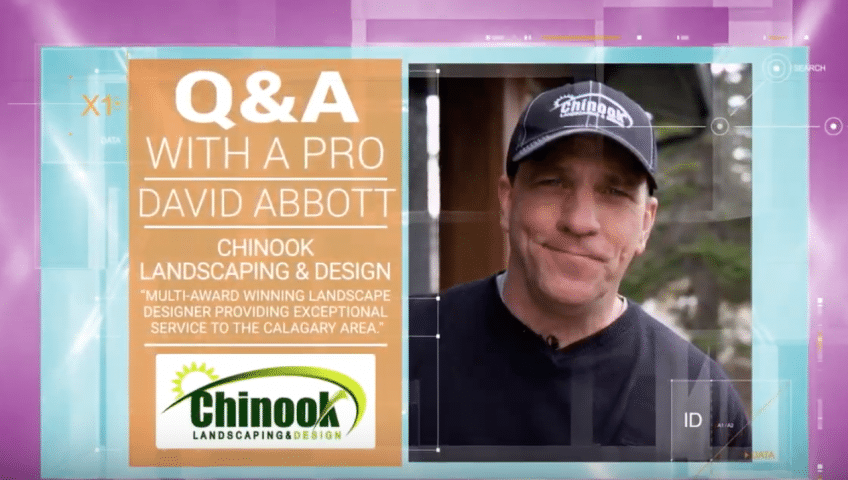 Chinook Landscaping was proud to be part of The Marc and Mandy Show.  The show is airing now on City TV in Calgary.  We shared "Tips from The Pros" and discussed several important ways to improve your landscaping.  You can watch the City TV segment on Youtube here Chinook Landscaping and Design on The Marc and Mandy Show.  Here is a sample of what we discussed on the segment.
How to prevent water from pooling around your walkways.
Preventing water from pooling around your walkways can be a challenge when landscaping in Calgary.  It is one of the most common issues we face as landscapers in Calgary.  Many homeowners or landscaping companies choose to bury their downspouts in order to divert water away from their walkways.  This is not necessarily the best solution.  Burying downspouts can often cause even more issues.  These new issues can arise because the the area that is buried can take longer to thaw in spring time.  Therefore the above ground free flowing water can run into an ice plug underground.  This causes your eavestroughs to overflow or even worse, it can lead to frost heaving under your walkway.  Frost heaves can cause cracks in concrete or high and low spots in your paving stones.  To prevent burying your downspouts we often recommend and arbor be used.  An arbor is a wood structure that can be simple or decorative.  We typically build these arbors from cedar because they look more attractive. Arbors provide drainage solutions by straddling walkways and diverting water away from your walkway.  We simply run the drain pipe over top the arbor and down the other side.  It is a simple solution to what could be a very serious drainage issue. Arbors also provide great curb appeal for your front yard and they are inexpensive to install.
The best way to create curb appeal for your property.
Defining your borders! This is the key to great looking curb appeal.  We discuss watch the video segment of Chinook landscaping and design on the Mark and Mandy show to learn more.  Defining your borders simply means cleaning up those edges around your garden beds. If you check out the TV segment Chinook Landscaping and Design on The Marc and Mandy Show you will see some great examples of how to create great curb appeal.   Overgrown messy garden beds are not attractive and they distract from the overall look of your landscaping in Calgary.  We often see great looking garden beds with a nice selection of shrubs and perennials but the borders are not defined.  Clearly defined borders look great and can be done easily without breaking the bank,  You can define your borders by using a simple spade edge but this needs to be done annually.  A spade edge means digging out sod or perennials around your garden bed in order to create a defined border.  A better way to define your borders is to use mowing pavers or raised stack stone or even a vinyl edge.  Mowing pavers are very practical because they allow you to mow your lawn easily by mowing right over the pavers.  Mowing pavers mean you do not need to trim up against a garden wall or edging.  A raised garden wall is another way to create curb appeal for your property.  Garden walls create a bolder and more obvious defined border than other methods. Raised garden walls are more expensive than mowing pavers.  Unlike mowing pavers, if you have grass bordering your garden wall you will need to trim up against it. You can eliminate the trimming by adding mowing pavers in front of your garden wall.
Watch Chinook Landscaping and Design on The Marc and Mandy Show.  Click here to learn more about Marc and Mandy