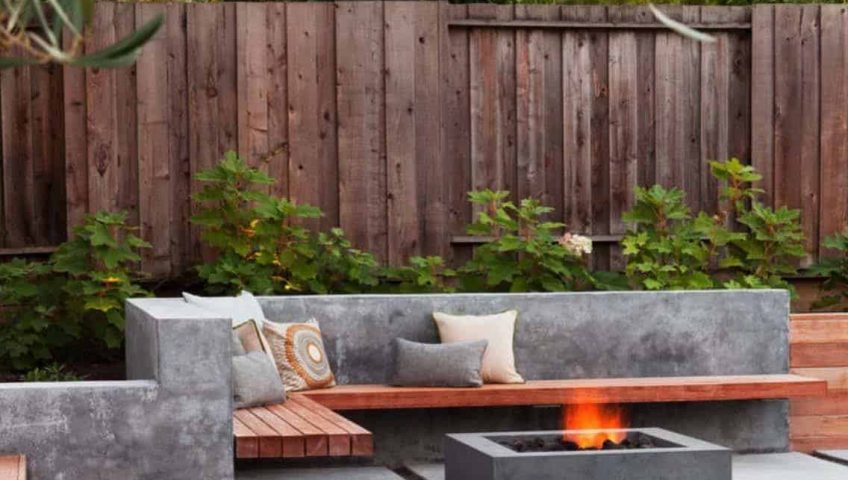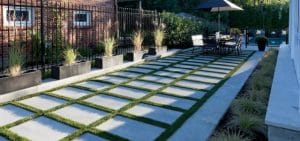 The landscaping industry has come a long way and now there are more modern patio ideas than ever to choose from. You can choose from pouring concrete slabs. large slab pavers and architectural slab, Composite or hardwood decking or traditional cedar decking.  Paving stones used to be only available in small bricks with very little options for styles and colours.  Now, that has all changed.  Manufacturers are now creating larger and multi sized paving stone patterns that come in a wide variety of styles and colours.
Paving stones and patio slabs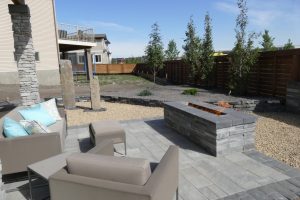 Paving stone manufacturers such as Techo Bloc and Rinox are coming up with more and more styles and colours every season.  Many of the new styles of pavers are actually throwbacks to many many years ago yet they are returning as popular landscaping trends in Calgary.  You will see similar paving stones in older European cities such as London, England. You can even find pre cast paving stones that look like natural stone.  Large slab pavers or architectural slabs are also becoming more and more popular for modern patio ideas. Landscaping trends are definitely leaning towards larger paver slabs.  The patio slabs can be installed tightly together to create a solid patio.  They can also be laid out in a linear fashion with either crushed decorative stone in between or inset directly into sod.  This modern patio look goes best with modern homes.  The linear lines really compliment this style of home.  You can also use the patio slabs for walkways to continue the modern look throughout your front or back yard.  We do not recommend installing these patio slabs as a walkway unless they are installed tightly together.  If they are not installed tightly together and there are spaces in-between them, you will find your walkway will not be shovel friendly.
Poured concrete benches and patios.
Using concrete as you main structure for benches and patio will give your patio a very modern look.  Concrete benches can be poured in many shapes and sizes depending on your needs.  The poured concrete look gives your patio a clean and sleek modern feel. The concrete itself can be dyed in various different colours and can even be blended to give you a mix of colour throughout your patio and benches.  Concrete patios are nothing new but there are many different styles that are new.  The California look is based on modern homes in places like Palm Springs.  The California style is lighter concrete that is white or off white.  Traditional concrete patios can be poured using exposed aggregate or stamped concrete.  Stamped is still a good option and there are now more patterns and colours than ever to choose from.  We do not recommend stamped concrete for busy walkways around your home because they can tend to be slippery
Soften your modern patio with wood accents and plantings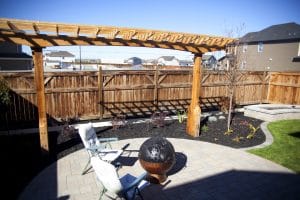 If you plan on using large slabs or poured concrete for your patios and walkways it is important to soften the look.  Large areas of concrete can tend to look too industrial and cold and although these paver slabs are modern looking this landscaping trend needs to be softened with wood or plantings,  So you can choose to warm these areas up by incorporating warm wood accents.  For example a concrete bench looks fantastic if you add cedar or meranti hardwood seating area.  Adding these wood benches will installing warm up your patio.  You can also choose to add a wood pergola or arbor above or beside your modern patio.  These wood structures will make your patio setting more intimate and cozy.  There is nothing like natural plantings to warm up the cold look of concrete.  You can add plantings to your patio are by using them as border plantings along the permitter.  You can also choose to add cedar planters on top your patio and plant your plantings right into the planters.  If you plan on having concrete benches installed on your patio then you can incorporate planters right into the benches and plant your shrubs, perennials or annuals into the planters.