Chinook landscaping and design is a leading concrete walkway installer in Calgary. There are many concrete walkway options for Calgary.   We specialize in beautiful concrete work including exposed aggregate, broom finish, California finish and stamped.  We also install concrete steps, verandas and landings.  Concrete walkways are a great option if you are looking for a less expensive patio or walkway but you still want great visual appeal.  Concrete costs less than paving stones and they can stand up well to Calgary's harsh winter weather.
Exposed aggregate
Exposed aggregate is one of our most popular concrete walkway options.  It gets its name from the pebbles or gravel being exposed instead of smooth over with a trowel  Exposed aggregate has a beautiful timeless look and especially attractive if it is sealed with a gloss finish every couple of years.  Exposed aggregate can be dyed a variety of different colours.  Our most popular colour is charcoal.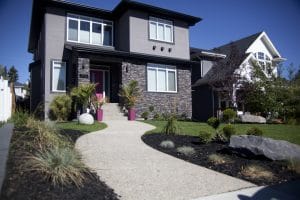 Broom Finished concrete
Broom finished concrete is a lower cost option.  Broom finished means the wet concrete is finished with a broom and it resembles a city sidewalk.  It is the most common walkway you will see in Calgary because of its lower price point.  Broom finished concrete can be more attractive if a dye is added to it.  Most clients prefer a medium charcoal dye to enhance the look of their broom finished walkway.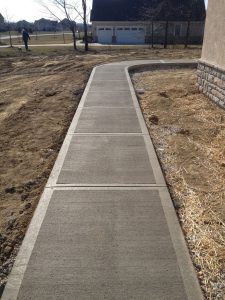 California or float finished concrete
California or broom finished walkways are becoming very popular as a concrete walkway option for Calgary.  California or broom finished concrete is a look you will find in, you guessed it, California.  The look is especially popular in Palm Springs.  The finish is lighter in colour and is float finished with subtle swirls instead that give it a unique and classy look.  California finished is becoming more and more popular with higher end homes but due to the reasonable cost, it is definitely a great option for all homeowners in Calgary.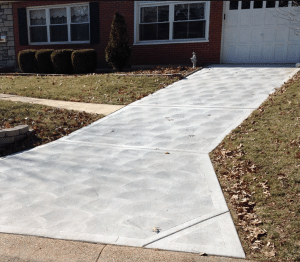 Stamped concrete
Stamped concrete as concrete walkway options in Calgary is not as popular as it once was.  The stamped look is made to look like natural stone, flagstone or paving stones.  The concrete is most often dyed charcoal or brown.  Stamped concrete can be very slippery so it is not recommended for high traffic walkways like front access walkway.  It is suitable for patios but again, it is important to note that it can be slippery.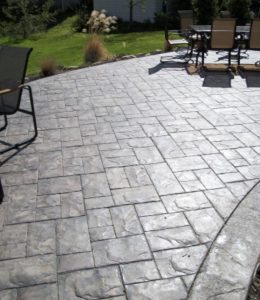 Mixing two of the above concrete walkway looks can also give you a great looking walkway.  Exposed aggregate skirting looks great with broom finished concrete.  You can choose to have the skirting on either side or running across the walkway.
We always caution our customers about the potential for cracking when using concrete.  There is always the chance that your concrete walkway could crack several years after installation.  This is not a common occurrence but it is a possibility regardless of how good the preparation is.  If cracking is a concern for you please consider other front walkway ideas options we offer.
If you are interested in an estimate for concrete walkway options in Calgary please give us a call to discuss and arrange for your free estimate.  You can also visit our estimates page