Calgary has many older neighbour hoods with older homes built in the 1960's and 70's.  Many of these homes are located in communities just outside the city core.  They include Lake Bonavista, Acadia, Haysboro, Lakeview and many other communities.  Many of these homes have old style pillars built at their front entrances or straddling their front steps.  If you want to look at other options besides simply painting over the steps then you may want to considering cladding your pillars with wood, stone or both.  You can transform your pillars with stone or wood cladding and it will totally change the look from old and dated to new and fresh.
Wood cladding for your pillars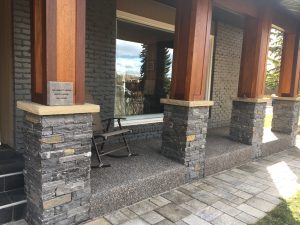 Wood cladding for your pillars is a great choice for existing pillars that need a quick makeover.  Cladding your pillars with would can quickly change the look of the pillars to something bold and fresh.  Your pillars may be located in the front of your property, straddling your front entrance or porch.  Pillars can also be found bordering back yard patios.  For wood cladding you can choose from various kinds of wood but the most popular choice for wood cladding around pillars is cedar or Meranti hardwood. Both Meranti and cedar cladding will require annual staining or oiling to keep the rich wood tones looking vibrant.  There are various style options to choose from including shaker style as seen in the photo to the right.  Using wood cladding for your pillars will be a less expensive option than stone cladding because wood cladding is much less labour intensive.  Make sure to have a qualified professional or journeyman carpenter install your wood cladding to guarantee you will have great looking pillars as your finished project.  Wood cladding compliments patios and walkways
and many front step ideas work well with this application.  IF you have arbors and pergolas on your property the rich wood tones of your pillars will match nicely with those components as we
Stone Cladding for your pillars
Stone cladding is another way to transform your pillars.  Stone cladding is a more costly option than wood because it is more labour intensive.  There are endless possibilities when it comes to stone cladding.  These include natural stone and cultured stone, often called artificial stone. Some high end cultured stone can looks as authentic as natural stone.  If you want to insure the look remains the same for many many years then natural stone is the way to go.  Natural stone will not fade or change colour over time. Cladding your pillars with stone will give your pillars a bold and rich look and the stone matches very well with natural wood cladding.  Stone cladding goes extremely well with paving stones  exposed aggregate or concrete patios.  Stone cladding can also be installed on the facing of your actual house in the front or back area.  If you have some front walkway ideas you could consider matching your new front pillars with the new ideas.  Both natural wood and natural stone cladding will go very well with any natural stone you have on your property.  The two are meant to be together!
Chinook Landscaping and Design works with a number of great natural wood and stone suppliers.  You can visit their websites by clicking on the links below.
Amico stone
Stone Concept
Kayu Canada