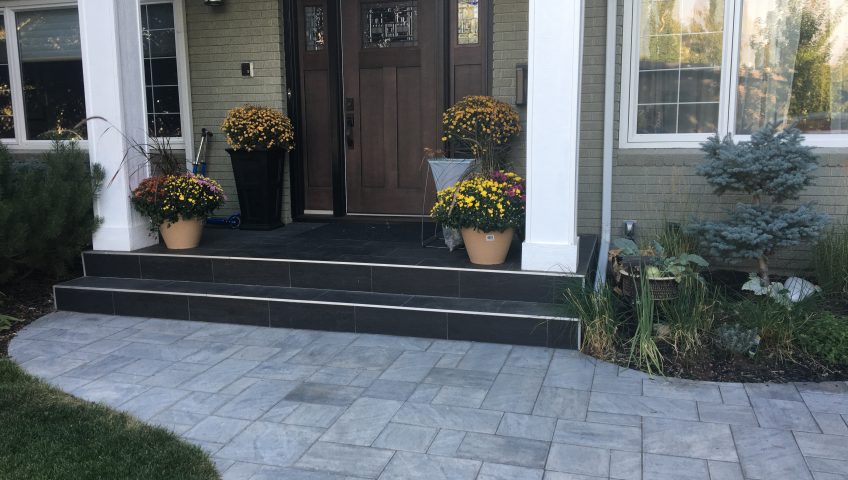 Front step ideas are often not talked about much in the world of landscaping.  You can create a beautiful new landscape but forgetting about your old, cold, concrete steps can make for an eyesore in the middle of your Oasis.
Boring broom concrete is not a pretty site
The term most commonly used for the standard front step in Calgary is broom concrete.  This means a simple grey concrete mixture is poured and then broom finished.  Boring broom concrete is not a pretty site and often the concrete is stained, faded and chipped.  Dressing up your front step does not have to be costly althoughthere are some more expensive front step ideas we will get into later.  There are many inexpensive ways to spruce up your step that should be within the budget of most Calgary homeowners.
Pour dyed concrete over your step
You can choose to pour dyed concrete over your existing step.  The least expensive option of a pour over would be to have the concrete dyed before it is poured.  Concrete dyes for steps are usually some shade of grey.  A darker grey definitely looks better than the traditional light grey concrete look and it will hide stains much better than a light concrete step will.  In order for the new poured concrete to last and not chip or crack you will need to make sure you have at the bare minimum one inch between the existing step and your front door jam.  Any less than one inch and the concrete will chip away in no time and you will be left with no inexpensive options in order to have it repaired.  This is our first choice for front step ideas if you are needing to watch your costs.
A pour over with stamped concrete or exposed aggregate
One of our favourite front step ideas is a pour over with stamped concrete or exposed aggregate.  This is not a very expensive option and it will basically look like you have poured an entirely new step from scratch.  You can choose to have your concrete stamped in many different patterns that imitate natural or modern looking stone work.  A dye is also included with stamped concrete to help give it a rich finished look.  Exposed aggregate is another great option and works especially well if you have existing exposed aggregate walkways.  Exposed aggregate steps also look very good with paving stone walkways or traditional broom finished concrete walkways.  As with the dyed concrete option you will need to make sure you have enough clearance above your existing step in order for a pour over to work and last for many years.
Installing tile over your front step
Of all the front step ideas to choose from installing tile over your front step is one of our top picks. You need less than a half inch of clearance below your door jam for this option so it means you won't need to break out and haul away your old step.  So, although the costs for tile are higher than a pour over you will at least save on the break out and haul out of your old step. In most cases, unless your step is crumbling you will be able to install tile over top.  You can choose from a vast array of natural stone tile for your front step and most of the natural stone tile is suited for Calgary's climate.  As well as being suited for our climate, the tile will not be very slippery at all and certainly not more slippery than a traditional concrete step.  Installing tile over your front step should always be done by an experienced tile setter. Tile setting is an art and if you aren't careful choosing your installer you can end up with poorly installed tile that becomes uneven or cracks over time.  Tile is one of the most costly options for your front step but the finished look is well worth it.  Tile matches very well with patios and walkways of varying styles
Break out the old and bring in the new
Maybe it is time to start from scratch and break out the old and bring in the new. Removing your old concrete step may be the only option if you have limited clearance between your existing step and door jam, making a pour over impossible.  If you want to start from scratch with an entirely new front step you will need to first have the existing concrete jackhammered out and hauled away.    Once that has been done you can choose between the poured stamped concrete or exposed aggregate we talked about earlier in this article.  Or you can choose to have a new step built out of either paving stones or wood.
Paving stones for front steps
Although paving stones inset in stone retaining walls are often used for steps in Calgary this is not an option we typically recommend.  This usually our last choice for front step ideas.  The reason for this is simply because there are more components to this method and therefore the chances of your steps lasting for a very long time are minimized.  Poured concrete of some form is in our opinion the best option for a front step.  Front steps get a lot of use over time and therefore a very solid structure is imperative.  In order to have paving stones as part of front steps retaining walls will have to be built.  These retaining walls will then need to be filled with compacted gravel and then sand and paving stones are installed.  These multiple steps mean there are many areas that can become weak over time.  If your retaining walls settle even a little then your steps will be uneven and start to be a tripping hazard and a headache to shovel.  There is no question that over time a solid poured structure will out last paving stones inset in retaining walls.